Jerrell Nelson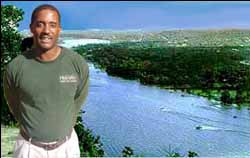 My name is Jerrell Nelson, I am a master level therapeutic recreational specialist who has been working in the profession for over 20 years. I am a graduate of Grambling State University (Grambling, LA) and Southern University of Baton Rouge, LA. I have worked in an array of setting such as adolescent, adult, and geriatric psych, rehabilitation, and community base. Also I have worked as an assistant professor in therapeutic recreation at Grambling State University. Currently I serve as the chief executive of Holistic Healthcare Services. The profession has been very rewarding to me as far as meeting the needs of individuals with special challenges.
Kaci Lindsey
My name is Kaci Lindsey and I am a Certified Therapeutic Recreation Specialist (CTRS). I am originally from El Paso, Texas but now reside in the beautiful city of Austin. I graduated from Texas State University with a Bachelor's of Business Administration and a Bachelor's of Science in Therapeutic Recreation. My experience includes working with children and adolescents with developmental disabilities, traumatic brain injuries, severe Autism, and behavioral issues. I have also worked in the acute adult psychiatric setting and have had the opportunity to do volunteer work with wounded warriors and adaptive sports programs. I consider myself to be extremely passionate and feel truly blessed to be apart of this wonderful field. In my free time I enjoy spending time with my friends and family, reading, playing volleyball, watching sports, hiking or anything that allows me to be outdoors, and any activity that allows me to continue learning.
Nora Towsend
My name is Nora Townsend; I am a native of Austin, Texas. I am a 1993 graduate of Pflugerville High School and 2002 graduate of Austin School of Massage. I ascertained my license to practice as a massage therapist August of 2002. I have worked as a massage therapist with Starzz Salon and currently work as a contractor with Holistic Healthcare Services. I have worked with individuals with special needs for approximately two years and thoroughly enjoy making a difference in their quality of life. I am bilingual and my hobbies are spending quality time with my family, cooking, and watching action or inspirational movies.
Dallas Webster
Dr. Webster has been working with and teaching people who have disabilities or are elderly, for over 20 years and in a multitude of ways – as an Assistive Technology Specialist, Mentor, Advocate, Teacher, Volunteer and Friend. He has worked with numerous organizations: schools/classes, group homes and institutions; service organizations, rehab centers and hospitals. His defining focus has been to significantly enhance knowledge, abilities, education and quality of life, especially through selection, proof-of-concept, acquisition and training with assistive techniques, technology and artifacts. He has received broad recognition, from the education and elderly/disability support communities, for his involvement, advocacy and special education contributions. He also spent many years in software and web research, design and implementation and in pure and applied math research and teaching.